Starting a chapter in your local community
Getting started with a Cycling Without Age chapter is an amazing experience. Nothing beats witnessing the joy of the elderly, pilots and personnel interact on and around the trishaw and seeing the smiles of passengers coming back from their first ride with wind in their hair, rosy cheeks and full of stories. We love to experience the movement of Cycling Without Age spreading all over the world and always welcome more to join.
We have launched a simple Affiliate model for communities, nursing homes, cities and individuals worldwide to become part of the movement. We already have a wealth of experience in working with nursing home staff and management, city councils, other volunteer organizations, cyclists federations as well as great ideas of how to get the initiative off the ground and locals excited.
From AARP Magazine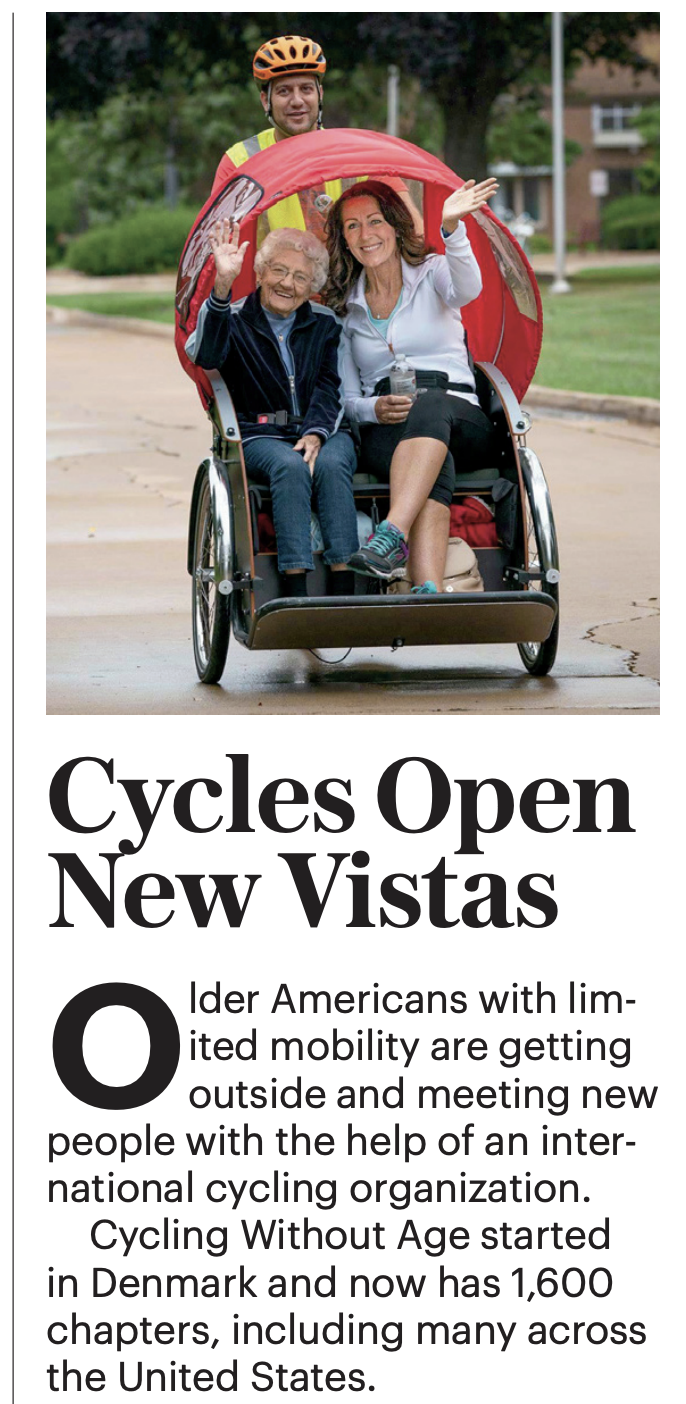 Find and contact a chapter of Cycling Without Age near you
Coffee friends
Chapters with trishaws
New chapters fundraising for trishaws
CYCLING WITHOUT AGE FACTS
As of March 2019
Invented in 2012 in Copenhagen
Represented in 42 countries worldwide
1,643 chapter locations
2,200 trishaws
29,270 trained cycle pilots
114,000 people served
Oldest pilot is 90 (Jørgen Hass, Denmark) and oldest passenger 107 (Madam Yeo Iu, Singapore)
Our trishaws cycle 2.8 million km a year or 70 times around the world
Visiting Copenhagen? Join us for a ride
The Grey Escape
By Michael Dorgan, Director/Producer at Go Forth Films
Lean back and enjoy The Grey Escape, a half hour documentary about a life-changing 4-day journey in which twenty elderly people deliver trishaws from Denmark to Norway. Use it professionally, use it at your fundraisers, watch it with future passengers, rock up your community – or just watch it for your own pleasure.
Marie from the film is still alive and kicking, and in April 2019 she turned 100, which was celebrated with a joyous trishaw ride with friends through Copenhagen, visiting the Royal Palace Amalienborg and eating birthday cake.
Moving Generations, Singapore

Connecting the youth with seniors. Through the trishaw rides youth have opportunities to engage with seniors in an active setting, allowing them to have meaningful dialogues and learn about the past.
BBC South News in Brighton
Thorkild's Ride Through Copenhagen

"Cycling is great. It's actually a great way to see the world", says Thorkild in this life-affirming, positive little film. Filmed and edited by Sanne Sandberg.
Never too old to "get on your bike"

Great Big Story
Open for Business on BFM, Malaysia
Presented by: Richard Bradbury
Guests: Ole Kassow and Andrew Pang
Loneliness – World Economic Forum
City of Bikes
"The biggest problem for elderly people is that they don't use their senses.
And there're also the social stimuli we get exposed to when we bike. We get together when we bike across all social groups and different generations come together."
"There will always be someone who needs a ride"