"Freedom!", an elderly lady cries out loud, as we're all sitting in a circle at the local nursing home. We're sharing memories of cycling and what cycling means to each of us. Everyone nods and we all agree that cycling is about freedom, joy and adventure, which can be hard to come by if you're in a nursing home.
We have come to understand that freedom is what most people associate with cycling. From their first bike as a child, to the first solo adventures in the neighborhood and longer rides into cities and nature.
This is your starting point for learning more and purchasing your piece of "freedom technology" – the trishaw.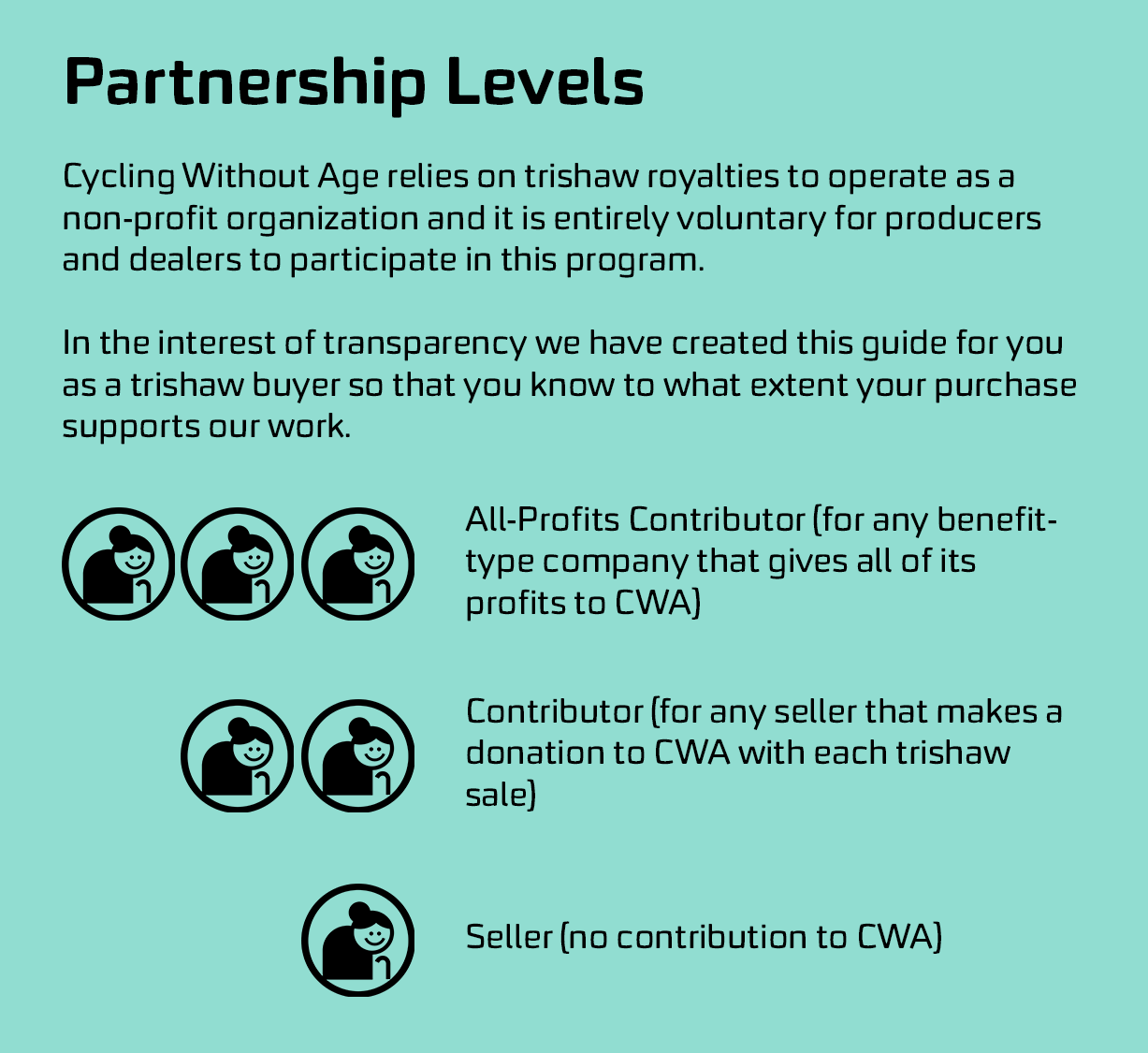 ---
The Triobike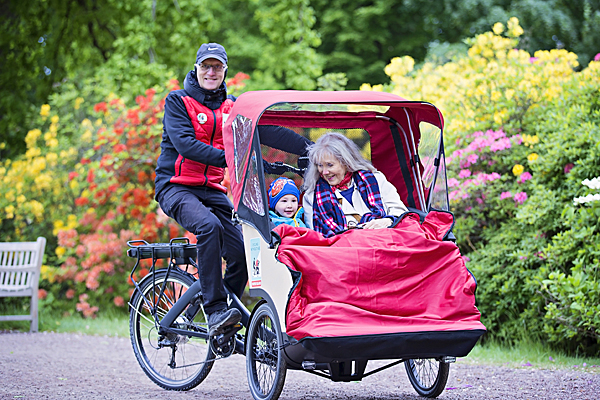 A couch on wheels
The Triobike is a pleasure to ride even when carrying two adults up a hill. And, it's a pleasure to sit in with soft, bespoke cushions. Once seated, safety is key with a seatbelt per passenger. The Triobike has a handy storage unit and a retractable hood and waterproof blanket for bad weather. Its many windows ensure a superb all-round view.
The seat is all about comfort. At 90 cm wide, it's one of the most spacious cargo bike seats on the market and is ergonomically designed for a relaxed sitting position. But, we also want passengers to travel in style. So, we got one of Scandinavia's top furniture manufacturers to make our cushions. The result is a soft and stylish seat that's also easy to clean and maintain. All you have to do is sit back, relax and enjoy the show. Carpé diem!
Triobike dealers authorized by Cycling Without Age
---
The Nihola
The agile trishaw
This unique trishaw has a separate turning system for the front wheels, which provides a better balance when turning. The bike is made in Denmark by Niels Holme Larsen and his team. They have over 20 years of experience building high-quality cargo bikes. One of their feats is to have supplied the Danish postal services with their 1,600 Post Bikes and the Danish royal family with their Nihola Family.
The Nihola Trishaw is auto-battery-powered and works without using a throttle on the handlebar. It is wide enough to seat 2 persons and the footrest is low enough so that passengers easily can enter the trishaw. Hood and blanket are made of solid weather-proof material. We always recommend buying an extra battery for long trips or when using the bike a lot.
Nihola dealers authorized by Cycling Without Age
Logo
Description
Rating
Territory
Link

Copenhagen Cycles is a purpose-driven company that is committed to donating all its profits to Cycling Without Age. It is the authorized global bike distributor for approved Cycling Without Age trishaws from Triobike, Nihola, and Christiania and works with high quality local bike shops worldwide to give buyers easy access to service and repair.
Only through Copenhagen Cycles do customers receive a free livery package including a book and city stickers.

Global
---
The Christiania
The classic
The Christiania is a classic in Cycling Without Age. When founder Ole Kassow started the organization in 2012 he used an old rented, de-commissioned Christiania. The model had gone out of production, but the blacksmith was intrigued by the idea of using the trishaw as a social tool, and was easily talked into re-starting production of their old model.
Cycling Without Age helped Christiania introduce several improvements making it more elderly friendly. Such features as a lowerable footrest, softer cushions and a chat window were developed by local Cycling Without Age affiliates and inspired Christiania to improve their model.
Christiania bike dealers authorized by Cycling Without Age
Logo
Description
Rating
Territory
Link

Copenhagen Cycles is a purpose-driven company that is committed to donating all its profits to Cycling Without Age. It is the authorized global bike distributor for approved Cycling Without Age trishaws from Triobike, Nihola, and Christiania and works with high quality local bike shops worldwide to give buyers easy access to service and repair.
Only through Copenhagen Cycles do customers receive a free livery package including a book and city stickers.

Global