"Stories from Cycling Without Age – Spreading Joy Around the World" features 21 personal stories and more than 150 touching photos from Cycling Without Age chapters around the world.
Excerpt from the book
FRIENDSHIP – Annie, 87 and Pernille, 36, Singapore
Annie Tan is 87 years old, or 88 according to the Chinese where life begins at conception. I am 36/37. She and I are friends. Annie says she's often bored, which is something we have in common, so our weekly rides on the trishaw do us both good.

We gradually started doing things together other than riding the trishaw. We met each other's families and Annie often cooks for us, she taught me to cook Peranakan food, such as Popiah and dumplings, to play mahjong, and practical ways to keep a house clean and ant-free (use lemons. Empty egg shells keep lizards away), she teaches me local languages and sayings and tells me stories about her life.

Annie lost her mother and sister in one of the raids when she was 12. Schooling stopped during the war, and when the war was over, she was too big to continue. She has no formal education and she is one of the brightest people I know. Annie always says "never mind", and I believe it's the secret to her success. She is not worried about things she can't change.
Pernille Bussone, Cycling Without Age, Singapore
Pernille and Annie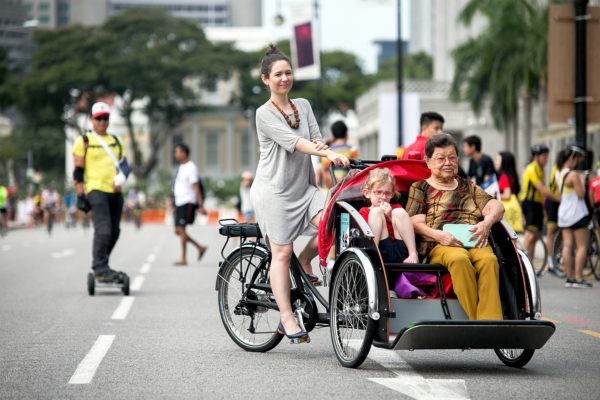 Below: From Denmark, Sweden, Canada