Welcome
Cycling Without Age is a not-for-profit charity that provides a community service by connecting those no longer able to ride for themselves with their community and the outdoors by giving them free rides on triobike ebikes, piloted by volunteer cyclists.
Our Sponsors
We would like to say many thanks to all our donors, and in particular our principal sponsor Maggie and to Eastern & Central Community Trust who believed in the concept immediately and had faith we could get all the funding we needed to bring the triobike to New Zealand. Our heartfelt thanks to you both.
About Our Chapter
Started in 2022, Cycling Without Age Napier Trust (CWA Napier) is a registered charity which runs programmes to engage and empower the seniors of Napier to live out their best years.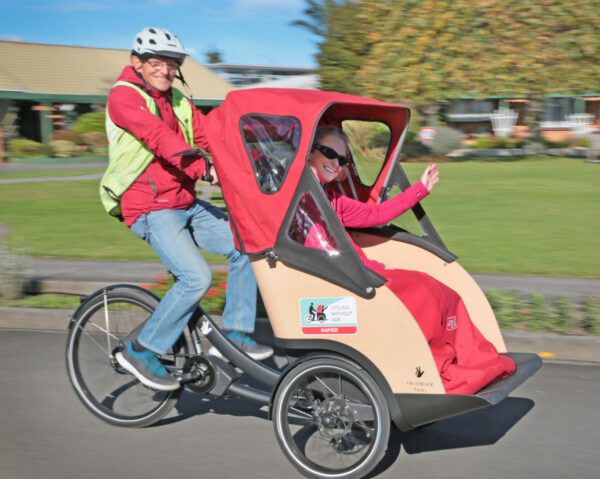 Donations
For us to expand and meet the expressed need for our triobike services in Napier, we would like to order another triobike as soon as possible, one that can take a wheelchair, as it can take 3 months to arrive.
To do this we need your help. CWA Napier welcomes donations and we are IRD Donee registered, eligible for the Donation Tax Credit.
We can also offer sponsorship opportunities for organisations wishing to advertise their support.
Donations: Charity Commission Number: CC59805
Bank Account Number : 12-3114-0013313-00
Thanks very much.