The Old Man
Every morning I go to work by bike, because I love cycling, and one morning I noticed an old man sitting on a bench in a sunny spot with his walking frame next to him. He sat there every single morning for the next two weeks. I could tell he liked to spend time outside, because he sported a nice tan, and always smiling. Sometimes reading his newspaper and always impeccably, but casually dressed in country style.
This is Thorkild, a 97 year-old gentleman and nursing home resident. I'll tell you how I got to know him and how it changed my life.
I had just been flicking through photos of Copenhagen in the 1930's which was quite a jolly bicycle inferno and I realised that HE had probably been cycling his bike around town every single day. And most likely enjoyed it as much as I do.
Bicycle As Means of Transport
For generations the bicycle was THE preferred mode of transport for 6 out of 10 residents in cities like Los Angeles, Rome, Tokyo and Sydney. In fact, most of today's older generation grew up and were young adults in a time when cycling 25 kilometers or more to and from work was quite common. In the early years after the war, the bicycle provided cheap, easy and efficient transport.
In the 50's and 60's the bicycle was slowly but surely replaced by cars, but in a few cities, such as Copenhagen, the bicycle managed to pick up again in the late 70's and early 80's and today continues to be the most important means of transport. It's still easier and more convenient than any other means of transport. It also happens to be the happiest means of transport.
Growing Old
When we grow older our legs and our eyes may prevent us from cycling on our own. And at some point, usually in our early 70's, we stop cycling altogether. I have heard countless stories of how they reluctantly have had to give up cycling because they became afraid of crashing or being hit by a car door.
And how much they miss the joy and freedom of cycling – and their personal mobility.
A Crazy Idea
All this made me think: The old man, Thorkild, he must miss cycling too – and then: How can I get him back on a bicycle? It was one of those ideas that just wouldn't go away. So, one fine August morning I showed up unannounced at the nursing home equipped with a rented rickshaw.
I realised that it was a crazy idea and that, most likely, they would kick me out, but I was determined to give it a go. As I entered, I was approached by a friendly-looking staff member and explained to her that I was a neighbour with a rickshaw and that I was offering the residents a ride. That could have been the end of the story, but the kind employee said to me: "That sounds like a great idea. Let me check". And then she disappeared into the coffee room – and reappeared two minutes later with an elderly lady under her arm and she said: "Gertrud and I would love a bicycle ride".
As they boarded the bike, I asked Gertrud where she wanted to go and her reply was prompt. She wanted to go to Langelinie. The board walk along the harbour where all Copenhageners have been going for generations on Sunday bicycle rides for an ice cream and a stroll. I also learned that she had a very special relationship with that harbour front. She told me that she had lived in Greenland for many years after the war and had brought up her children there. This was where the Greenland ships would dock. She told me she could almost smell the tar, hear seagulls and sense hive of activity.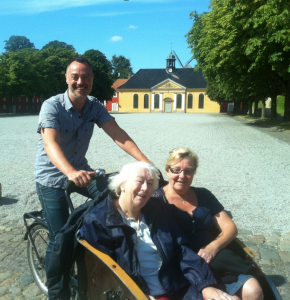 The ride lasted about an hour and by the time we arrived back at the nursing home I felt a very strong bond with this stranger, Gertrud. It almost felt as if I had been on a time journey with her. And having dropped off the two ladies at the nursing home I left in a rare spirit.
Effects
The next day I received a phone call from the manager of the nursing home. She wanted to know what I had done to Gertrud… and then quickly added: "Now all the other residents want a bike ride too!". The experience must have had a profound effect on Gertrud.
And so I rented the rickshaw again and I started doing regular bike rides with the residents in my spare time. It gave THEM a new-found mobility and it gave ME an amazing new insight into my city and lots of very unlikely friendships. I felt like an explorer in uncharted territory.
Now, Thorkild, the old man on the bench. One day I took him for a bike ride too. Passing through one of the parks he suddenly exclaimed: "I used to live in there" pointing to the old army barracks by Rosenborg Castle. That was when I learned that he had been a royal guard for 18 months back in 1938, 76 years ago. He had also owned a lingerie shop for 25 years in the heart of Copenhagen and proceeded to explain how to assess a woman's bra size. I realised I had, in fact, still a lot to learn.
The City of Copenhagen
I decided that all these adventures were all too good not to involve other people in. So I wrote to the City of Copenhagen explaining what I was doing – and would they sponsor a bike for the nursing home?
And much to my surprise, an enthusiastic woman, Dorthe, from the City of Copenhagen called me a few weeks later and told me that this was exactly the sort of active citizenship she was looking to encourage. And would I be interested in 5 rickshaws for 5 nursing homes?
You bet!
Equipped with 5 bikes, together we gathered friends and locals and organised a ride through Copenhagen. Over 100 people showed up and accompanied the 5 rickshaws and their 10 passengers. Two TV stations and several national newspapers covered the ride and all of a sudden we had 30 volunteers signing up. During the following season the bikes were all out several times a day giving adventures to the old people and the volunteers.
That's how Cycling Without Age was born.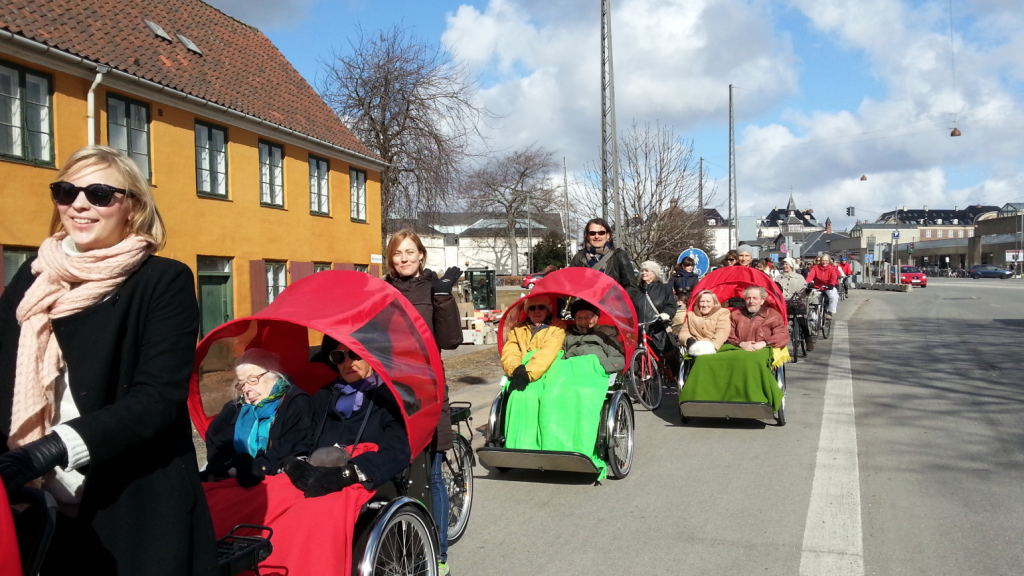 Amazing effects
Pretty soon Cycling Without Age was spreading to other cities in Denmark and Norway by word of mouth and the feedback we got was truly amazing:
Some nursing home residents had started talking again.
People suffering from dementia were losing their aggressions and would actual lift the spirit in the nursing home upon returning from their bike rides.
Blind residents explained to volunteers that cycling was all about using your senses: Smelling the flowers, listening to the birds and feeling the wind in your hair.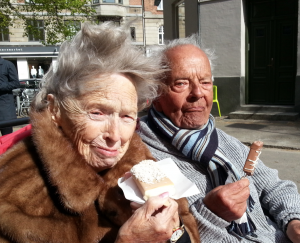 And I couldn't agree more. That's what's we're about: "We're here to fight for old people's right to wind in their hair."
Losing witnesses
When we grow old, we lose the witnesses to our stories and to our lives. Imagine not having anybody around who experienced what you experienced. Imagine not having anybody to laugh or to cry with. And imagine knowing that soon your stories will disappear with you.
What has astounded me the most is how simple bicycle rides with one or two passengers have such profound effects on quality of life. Not just for the elderly, who may break free from social isolation, but also for the volunteers, who experience the pleasure of helping others.
This doesn't just attract the normal – the hardcore volunteers. In fact Cycling Without Age is probably less about volunteering in the traditional sense of the word – and more about active citizenship. Citizenship driven by a desire to get involved and make a real difference for someone. It's about creating relationships between people.
One of the pilots, Roberto, a handsome gentleman in his early 60's and of Italian descent, got started on prescription. His doctor told him he needed to lose a few pounds and do more exercise – and proceeded to prescribe a medicine: Cycling Without Age.
Another rickshaw pilot put it this way during one of our rides: "You don't even have to pretend this is awesome. It IS awesome".
Friendships
A young volunteer literally got himself a new set of grandparents by striking up a friendship with a elderly couple from a local nursing home, who recently celebrated their 70th wedding anniversary. Their trips around town are not scheduled appointments. They're more like any other friendship, where you meet as often or as rarely as you feel like. He goes, not because it's an obligation – a job that he signed up for – but because he wants to.
I continue to be amazed by the stories I hear and experience at the well over one hundred nursing homes who have embraced the initiative – so far. I'm humbled by witnessing people in wheelchairs who believed they'd never be cycling again, who come back to the nursing home smiling and singing. Full of stories and a renewed appetite for life itself.
It's that kind of positive impact that fuels my enthusiasm and gets me out of bed in the morning. And I love it when I see other people find that spark too.
A Ride of Audacity
3 days ago we returned from our longest ride to date: 10 rickshaws, 20 elderly passengers between 70 and 90 years of age and 15 pilots went on a 300 km adventure ride to Hamburg. I can still feel the last day in my legs, when we were propelled forward by sheer adrenalin.

I had never imagined the impact it would have on these lovely old people. One 90 year old lady, Sigrid, spontaneously stood up during dinner on Day 2 and explained to us that she hadn't been on a vacation for 15 years and that this was the best holiday of her entire life.
Another lady put it this way: "I feel alive again". And she was one of the so-called weak passengers on the trip.
Most of the passengers usually use wheelchairs or walking frames, but for the duration of this trip, they quite simply forgot them.
And interestingly, many of the passengers reported that they didn't need their tranquilizers to sleep at night.
On our way back to Denmark our elderly passengers started plotting new bicycle trips to Paris, Berlin and Amsterdam. 6 months ago I would have had my doubts. Now I know that nothing is impossible.
Thorkild's Birthday
Thorkild and I celebrated our friendship two weeks ago on his 97th birthday with a really good glass of wine. A special treat we both enjoy. When the wine waiter heard about the occasion, he made a rare exception and brought the special wine glasses outside.
That night we chatted to well over 50 strangers in Copenhagen. People who came up to us and wanted to share this special time – and whose lives were impacted.
What Cycling Without Age has taught me is that life can and should be beautiful even if you're close to a hundred years.
Life in a nursing home can and should be a place of joy and continued mobility.
You too can invite a neighbour – or a complete stranger – on a journey through time and through cities – and by doing so we make better lives.
It's all about creating relationships.